Throughout the week, we operate a fully-accredited Day School, from Pre-School through 8th grade.


Care Ministry
We're all over the map when it comes to visitation! Our lay ministers – just like yourself – are in over a dozen local convalescent homes and social service situations, and together, this amazing army shares comfort, hope, and belonging to our elderly, and those who feel rejected. The caring and love of the Lord is seen so clearly in these champions of His personal touch, and we're proud to call them part of our team.
Gen7 is committed to leading our high school and junior high students in our community into intimate relationship with Jesus. Our youth group meets regularly at New Life. During these meetings, students experience an encounter with God through powerful worship, drama, Friend Day events, and relevant teaching. In addition to our weekly gathering, Gen7 gives our students other opportunities for students to grow in their walk with God and live out their faith. Check out the links below for more information.
With excellent facilities, we have everything your child needs for a safe, fun, fantastic time at church. You may want to sit through a children's service yourself, and see how much fun they have – from puppet shows to sing-along to face painting – our expertly-trained KaPOW Kid's program leaders are ready to take your kids to the next level. And be sure and bring them to be a part of our annual Children's outreaches, where we invite the community to join us for a special season to make every child feel welcome in God's house! Click here to learn more.
For more information, be sure and check our special events calendar or call us for details at (415) 892-0714.
Music Team
Do you have a heart for music and worship? Can you play a guitar or keyboard? Can you sing? We have some opportunities for musicians & vocalists to join our music team. We practice on Thursday evenings and Sunday mornings. Interested? Come join us and we'll share our heart and vision for worship. Contact the church office or Buddy James for more info.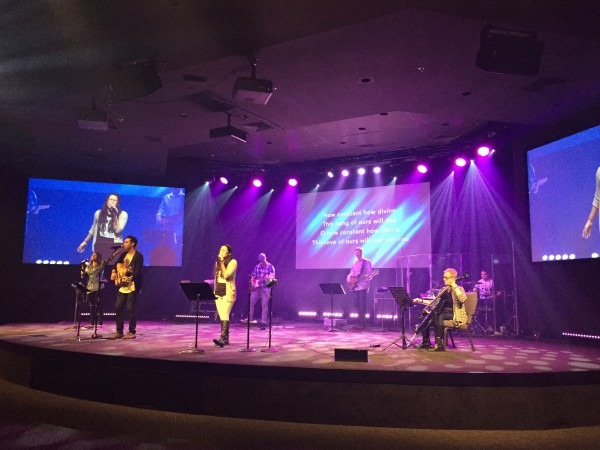 Media Team – Sound, Lights, Video, Lyrics
With the redesigned auditorium comes more opportunities to help out with the media. We can TRAIN anyone who has a heart to serve.
Do you have a good ear for music and sound? Why not join the SOUND team?
Interested in helping out with the lights? Join the LIGHTS team.
Are you an aspiring videographer with a steady hand? Why not join the VIDEO team?
Interested in being trained to run the lyrics on ProPresenter? Join the LYRICS team.
Contact the church office or Buddy James for more info.